Farnham's Environment
Let's take responsibility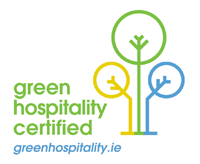 Best Practices
All of our staff are trained in relation to Responsible Business; this is compulsory training which must be undertaken by all resort staff.  We recycle cardboard, bottles, paper, cartridges, batteries telephones and glasses and this is carried out by both staff and guests.

All of our rooms and corridors have been fitted with low energy light bulbs; we promote energy saving activities in the hotel and walk the walk in relation to recycling and energy conservation.

We segregate waste to recycle where possible and we grow some of our own vegetables; Every year we undertake a number of activities to raise money for charity or assist local charities.  
We work with the local community, inviting schools to visit the resort to enhance their knowledge of the property and we operate diversity in the workplace at all levels. We involve our guests in the towel re-use system, grow some of our own vegetables for the Estate  and we give  our guests the opportunity to recycle items in their bedrooms.
We are a major employer in the local community and involve both staff and guests in our fundraising actives which take place each year.